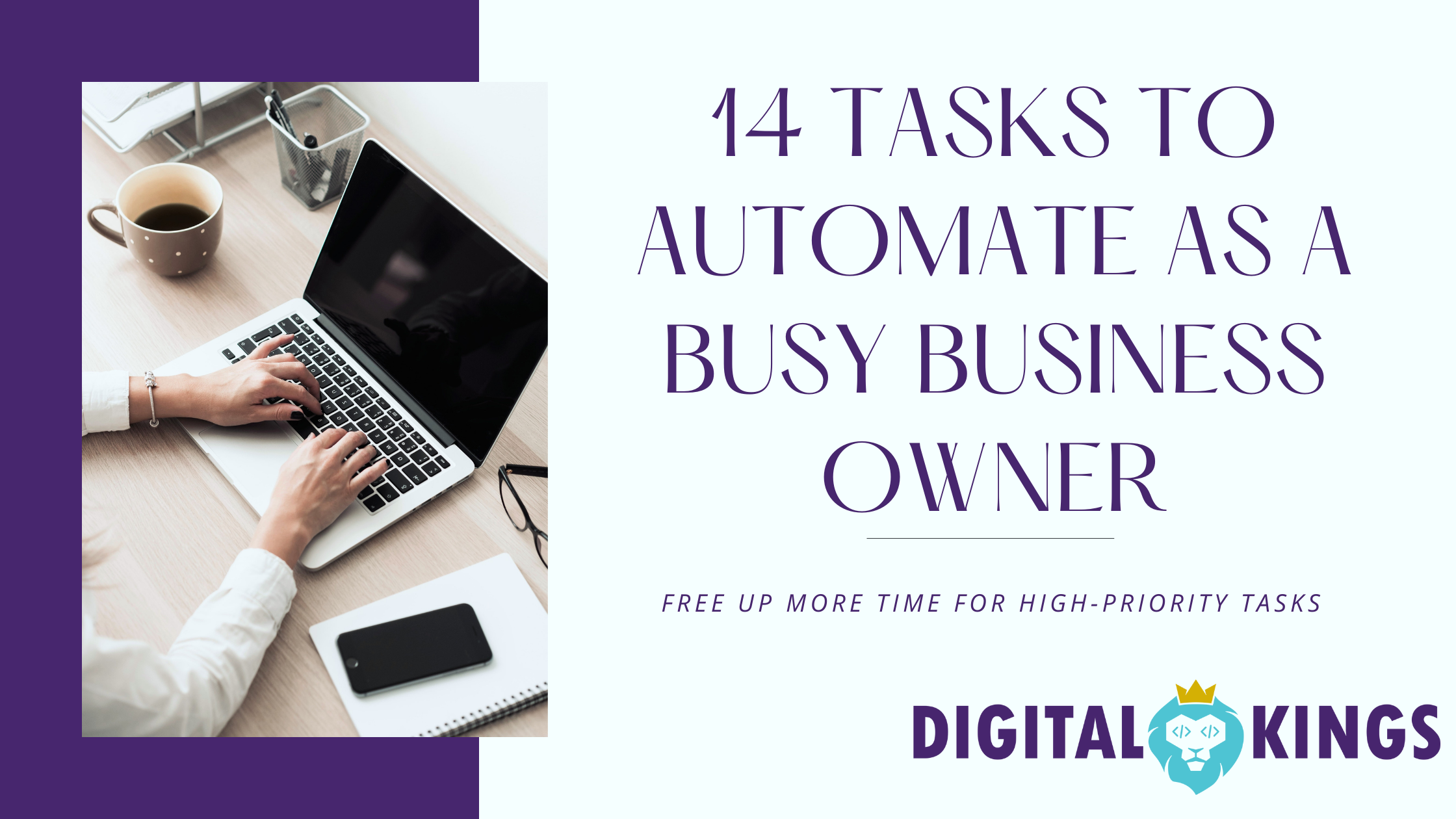 Being a business owner means being pulled in 10 different directions at once & a never ending to-do list.
If you don't know how to automate some of the smaller things, you will never have time for the high-priority tasks that will grow your business.
Below are 14 different tasks you can automate to free up some time to focus on growing your business.
1. Social Media Posts
This may seem like the most common task to automate but it saves a LOT of time in the long run.
Seek a social media scheduler & batch some content to post automatically.
Taking even 30 mins a day to create content & post it adds up when you have a long list of to-dos.
2. Blog Posts
Most blogging sites, such as WordPress, offer the option of scheduling posts in advance. So just like your social media posts, you can batch a couple blog posts & schedule to post automatically. Streamlining your marketing.
3.Website Traffic Tracking
If you're using google analytics to track users on your website, you can set up a report to be sent right to your email every week. So instead of wasting time tracking each user on your website, you will receive a detailed report of all user movement on your site – right in your inbox.
4. E-Commerce Reminders
If your business sells products this is a must have! Automatically send reminders to users that may have left items in their cart or viewed a certain item & left the page. This not only will retarget users back to your site, but help you stay top of mind with your audience.
 5. Event Registration
If you are having an event or class, make sure to have a pre-written email to send automatically at registration to remind users of what to bring/expect.
Sending out a simple, one-page email will save you a lot of time in the back end from responding to questions & emails leading up to the event/class.
6. Email Marketing
Scheduling automated emails is crucial in your email marketing plan.
Emails will nurture your audience & help you stay top of mine – this can get tiring to show up every single day in their inbox.
Having automated emails sending out for birthdays, reminders, anniversaries, & education around your products/services can go a long way in nurturing relationships.
7. Invoice Reminders
Have a client that owes a payment? Quickbooks allows you to create automated email reminders so they never miss a payment.
8. Receipts
If your company has piles of receipts, scan them into an app that will automatically export important information needed to make tax season as seamless as possible. Also get in the habit of doing this maybe once a week or once a month so it doesn't pile up.
9. Paying Bills
Paying monthly company bills may not seem time consuming but setting up automatic bill pay will ensure more time to focus on your business & less time writing checks every month.
10. Payroll
Automating your payroll saves tremendous amount of money so that you aren't slowed down twice a month or even weekly in some cases.
11. Appointment Scheduling
If you have a business that users can schedule an appointment with you – automate it. Manually scheduling your days with appointments can take up more time than you think & most appointment scheduling sites will send you on overview of your appointments for the day.
12. Responding To Emails
Now I would never recommend for anyone to set up dry or generic auto replies, but if you keep getting the same questions it will most definitely be productive to set up an auto reply answer that can be sent out when triggered by a certain word or phrase.
13. Creating Proposals
Generating new proposals from scratch can be tedious and timely. If you have systems in place, like PandaDoc , you & your team can create templates for a more streamlined process.
14. Lead Nurturing
No business owner has time to waste nurturing a lead that will never convert. With automation you can answer lead inquiries, assign leads to team members, follow up, & segment leads. Once this information is gathered, it can automatically be put in a database & pin point where they are at in the sales funnel.
Want to learn more ways you can boost your business? Contact us today!